The (Canadian) Gulf Islands adjoin the (American) San Juan Islands, lying between Vancouver Island and the North America mainland, with Puget Sound to the south, Georgia Strait to the north and Juan de Fuca Strait to the west.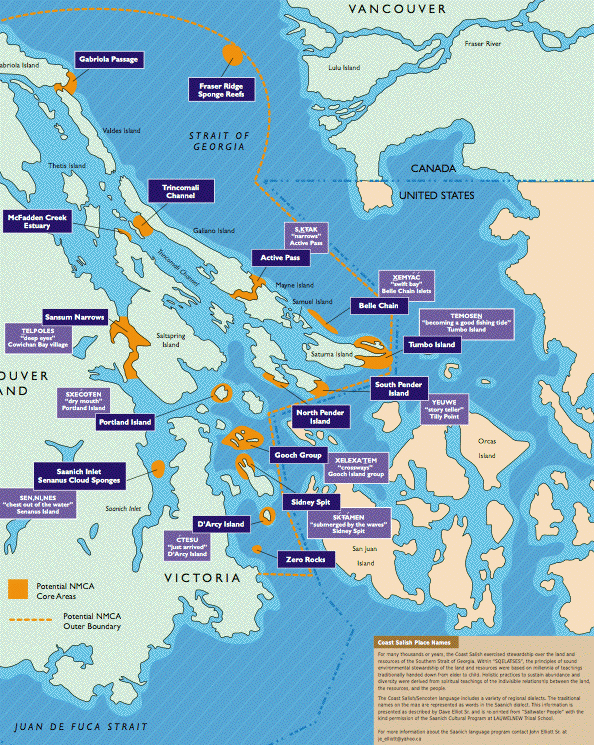 This map, from Canadian Parks and Wilderness Society (CPAWS), shows an intended "marine protected area" in the Gulf Islands region. Both English and native language place names are given. CPAWS is part of a coalition encouraging marine protection.
The rugged rocky forested islands and the swift cold currents around them support abundant life in a visually stunning environment.
| | |
| --- | --- |
| | Orcas are often seen. There is concern for their survival amid pollution, boat and shipping traffic and fisheries pressure on the salmon which are the major sustenance for orcas. We can learn more about orcas, and consider adopt-an-orca, at the Whale Museum. |
The region was stewarded for thousands of years -- since emerging from the last ice age 12,000 years ago -- by the many bands of Coast Salish natives. With the arrival of Europeans (and, earlier, of Russian fur traders) changes have come to the region. Forest products, mining, transportation and other industries discharge waste into these water, along with human and industrial wastes from the major population centers of Seattle-Tacoma, Vancouver, Victoria and others. The ports of Seattle and Vancouver are major North American shipping centers, their traffic passing through the San Juan region.
to Planetwater home